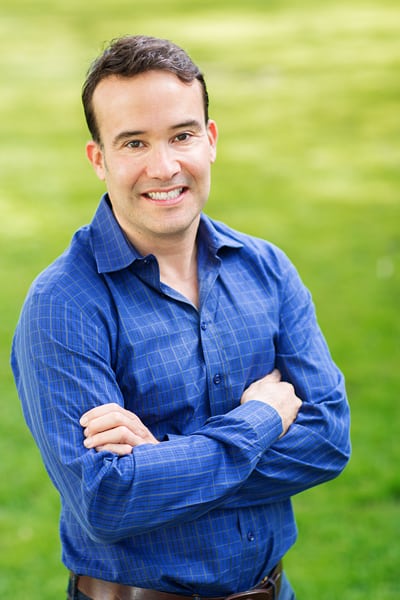 As big data buzzwords hypnotized the planet in the early aughts and start-ups blossomed with preliminary software applications, Tom Chavez had a different idea. His concept of cloud-based infrastructure and applications focused on "people data" inspired him to help establish Krux in 2010. For many of the world's leading brands, Krux soon became the most important system not only for understanding their consumers, but also interacting intelligently with them across every device. Chavez's platform became a crystal ball for tracking and predicting what customers want in the past, present, and future.
Still, if you ask him about it, the visionary says it's part luck and part paying attention. Growing up in a large family from humble circumstances in Albuquerque, New Mexico, Chavez absorbed the lessons given by his parents that would shape his career trajectory.
"You could run but not hide from the idea that much was expected of you," he says. "My parents taught me that if you didn't quit, you'd continuously improve."
He recalls his mother's mantra: God, family, education—in that order.
"She saw education as the primary path to opportunity," he recalls.
As it turns out, she was right.
After earning a bachelor's degree in computer science and philosophy at Harvard University, Chavez completed a doctorate degree in engineering at Stanford University. His technical training in economic systems and operations research gave him credibility as he launched his first startup, Rapt, which was acquired by Microsoft in 2008 for $180 million, and his second venture, Krux, which Salesforce bought in 2016 in a cash and equity deal worth $1.1 billion.
In an interview with The Alumni Society, Chavez shares how he pinpoints opportunities for disruption, why he considers building a team as the linchpin in his success, and why the Latino community should further embrace entrepreneurship.
Which inherent or learned characteristics differentiate an entrepreneur from other executives?
An entrepreneur conceives, launches, and builds a business from scratch. A good entrepreneur asks the question: "Why not?" and persists even when everyone else says it'll never work. There's a kind of cognitive dissonance that good entrepreneur needs to embrace. You need to see what should be and what ought to be, but at the same time always see things as they really are. To be a good entrepreneur you need to always carry a strange combination of critical realism and unflagging optimism.
As a successful Latino entrepreneur, how would you advise others in the community?
For Latino entrepreneurs, the biggest challenge is social. Externally, we haven't yet built the networks or social capital at the same level of power and sophistication that many other groups enjoy. Internally, we haven't cultivated a culture that celebrates entrepreneurship. The good news is we celebrate family, home, and hearth, and we're taught 'respeto,' but the less favorable consequence of that is the social pressure to not break too many rules and to stay in line. If you break ranks, people ask, ¿Quién te crees que eres? Who do you think you are? I think these mindsets can be limiting.
My advice is take some big swings and ignore conventional wisdom. Know what you want, ignore the naysayers, and go for it.
How do you identify those opportunities for disruption?
Everyone loves to talk about first-mover advantage in tech. Don't discount last-mover advantage. Hats off to Uber and Pinterest, but Google was the eighth search engine and Facebook was the third or fourth social network. Entrepreneurship is more about breaking rules in well-trodden spaces that still hold opportunities.
At the same time, you can't mistake clarity for proximity. Your idea may glisten, but you could also underestimate how far off it is, or the conditions that need to be in place for you to achieve it. In the 1990s, the mobile revolution and things like home delivery of fresh groceries was just about to happen—then it took another fifteen to twenty years for companies like Amazon and Apple to figure it out. There were a lot of bodies on the rocks along the way with companies who mistook the clarity of their vision for how close it was to happening.
What was your vision for Krux when launching the company?
The "why" was the explosion of devices and gizmos in our pockets and bags that were creating all of these touchpoints that companies could use to interact with us. From my vantage point, there was this crumbling infrastructure that was good at counting web pages and delivering ads, but it wasn't up to the task of dealing with the complexity of new devices throwing off lots of data about people—what they want, where they go, what they hate, how to engage with them —so that was the big opportunity.
Against that backdrop, we decided who's looking at the screen is actually going to be a lot more important than what's on the screen. If we could capture, organize, and analyze that data to activate it and send instructions back to that same screen in that little moment of truth to give that person more of what they want, then we could have a really cool, consequential company on our hands.
How did you build a team around that big idea?
Much of my job is finding great people and coaxing greatness out of them even before they perceive it themselves. If you hire someone who's already famous, you probably can't afford them. Their fame frequently makes them overconfident, which is at odds with the humility required to start a company from scratch. I feel like my job is to find the right players and create the work architecture that allows everybody to do what they do well, but in the service of a larger objective. In a way that gets everyone to understand that their teammate's success is their own success. I want everyone on my team to be the CEO of their patch and to know that they have the agency to get the job done, so that when we nail it, they see it as their own personal win.
What is your strategic approach to scaling companies?
I am all about staging and sequencing. When you have a party, first you make the guacamole, then you pour the tequila, and then you dance. Building a company is like that. Scaling is about delaying gratification and focusing maniacally on the preconditions and end conditions of whichever stage you're at, planning it all, and communicating it effectively to your employees and investors.
I see a lot of entrepreneurs chasing butterflies. At the early stage, don't act like a public company. When you're further down the field, don't hold on so tightly to the cool habits that helped you crush it in the beginning. Your crew has campfire stories about all the amazing things done with only five people in a room, and those are precious, but it's also dangerous to presume that those exact things will carry a larger organization forward.
At the start of your career, what do you wish you had known about entrepreneurship?
Well, if I knew all of it, I wouldn't have done it. I wouldn't have had the opportunities to struggle, learn, and grow, and those are what make the ride worth taking. I don't want to airbrush the messy parts, but if I were talking to my twenty-something year-old self, I would tell him to just chill out and enjoy the ride.