Recap: 2016 Catalyst Dallas Event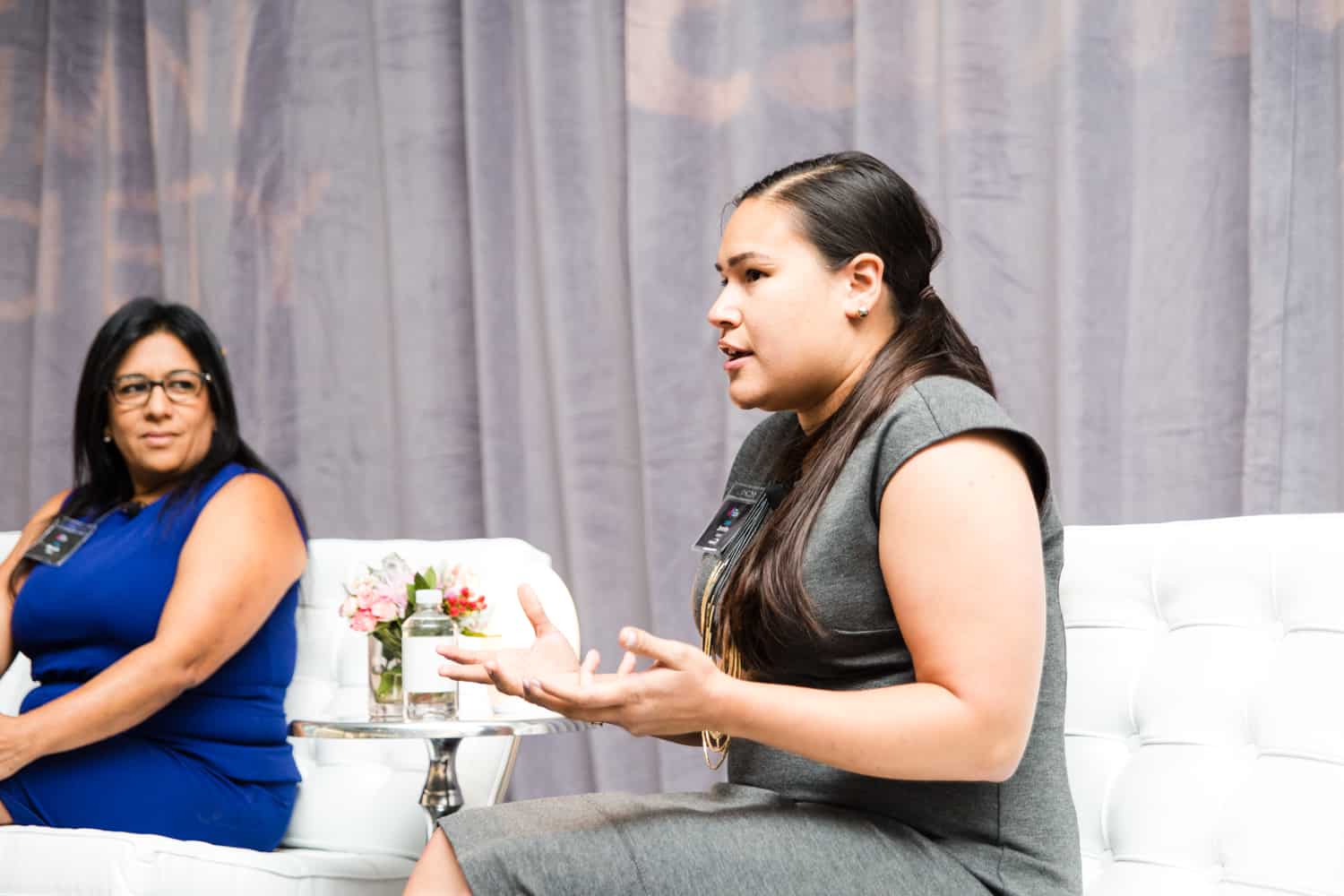 "Follow me around for a day and you tell me what I need," said Jennifer Lopez, director of design strategy for Capital One, in response to a question about what sort of digital tool would be most useful to her. Lopez was one of three speakers featured during an exclusive panel discussion for the Catalyst Dallas event on September 22, hosted by The Alumni Society.
The event, presented by Capital One, was held at The Joule Hotel and brought together Latino executives from top-tier universities nationwide.
The evening began with a cocktail hour on the private terrace of the Joule, located in the heart of Dallas's downtown central business district. Guests then proceeded to dinner and the program began for the evening. The Alumni Society executive director Sergio Fernández welcomed guests and emphasized the organization's goal to become an indispensable partner to both members and corporate partners.
"Our promise is to deliver results that elevate Latino executive leadership through our innovative programs, media and technology platforms, and our exclusive events," Fernández said.
Cinthia Lopez, The Alumni Society member, Georgetown alum, and senior director of human resources for Capital One, kicked off the evening speaking on behalf of the company. She shared a bit about her background—she hails from Tegucigalpa, Honduras—and how she became a member The Alumni Society. She joined in part to take advantage of opportunities to connect with like-minded individuals.
The panel discussion of the evening was "Leading the Digital Renaissance," in which three leaders in digital and technology discussed digital business, technology leadership, and the age of the consumer.
The panelists included:
The big question: How are we using digital to ultimately win with our consumers?
Lopez pointed out how the most indispensable tech innovations aren't always articulated or requested, but seamlessly fit into users' lives nonetheless. She stressed the importance of understanding her customers' day-to-day. Designing digital products to meet their needs means taking the time to understand the way their lives already work and how to fit into their routine.
Marcela Bailey discussed what it's like to be in a position to innovate—she is currently working to digitize landscaping, an industry that is new to the trend of digitalization.
Claudia Araujo of Netflix shared her unique background—she is Portuguese but grew up in South Africa—and how she started her career with an interest in journalism and entertainment. But she soon discovered that her abilities were suited to the digital realm.
Speaking about digital transformation, Araujo said "you can completely reinvent society."
All three women agreed that a background or initial interest in technology isn't necessary for developing the skill-set needed for a role in technology leadership. Instead an open mind and a willingness to embrace new opportunities are key for reaching executive leadership, especially in constantly transforming sectors like tech and digital.
After the panel discussion and a lively audience Q&A session, guests were treated to dessert and cocktails on the candlelit terrace in the warm, pleasant Dallas weather.
Additional photos from the 2016 Catalyst Dallas event can be found on our Facebook page.