Hispanic Scholarship Fund Breaks Down Barriers
The Hispanic Scholarship Fund helps makes higher education a possibility for many high-performing low-income students. The Alumni Society caught up with the fund's CEO Fidel Vargas to find out more about HSF's offered scholarships
---
By Jeff Silver // Photography by Nicol Blesek
---
The Alumni Society: Scholarships are only a part of what the Hispanic Scholarship Fund does, correct?
Fidel Vargas: That's right. What may be even more important is acting as a resource for scholars and their families. We advise them on preparing, planning, and paying for their education with steps that can begin in elementary school. We provide programs like College Camp, College 101, Scholar Celebration, and offer support services like mentorship, career services, and leadership development. This year we launched several new annual conferences—the STEM Summit, Career Symposium, and Finance Conference. In 2017, we'll be adding the Media & Entertainment Summit.
TAS: What is the underlying theme to all these programs and information?
FV: We dispel myths and correct misinformation and misconceptions. For example, the parents of a low-income student who has been accepted at Stanford might assume that they can't afford the tuition. But because Stanford has significant financial aid resources, the school covers every expense, including room and board for parents earning less than $65,000 per year. Imagine being a parent who's never been to college and learning that. It's very gratifying to know we're removing some of the biggest impediments to deserving students attending the most selective universities in the country.
TAS: What role does technology play in your efforts?
FV: In 2013, we created "HSF 2.0." We redesigned our website and implemented responsive design that adapts the content to all types of screens and devices. We've also streamlined and simplified our application, recommendation, and review processes. We're now in our "3.0" phase, which builds on the existing technology platform.
TAS: Can you share any news about The Gates Scholars program?
FV: Last April, we were one of ten organizations invited to submit proposals to administer a new scholarship program. After several rounds of due diligence, HSF was selected as the sole administrator of this new program and awarded a $417 million grant from the Bill & Melinda Gates Foundation to launch The Gates Scholarship. The program will support 3,000 outstanding, low-income, minority students from across the United States.
TAS: How are HSF scholars performing?
FV: Our scholars are phenomenal. Thirteen percent attend the top ten universities in the US and 70 percent attend the top 100 universities. Sixty-seven percent are the first in their families to go to college, and 77 percent are low-income students. Finally, 90 percent graduate within six years.
TAS: What are HSF's long-term plans?
FV: One priority is additional fundraising so that we can offer more support services and scholarships. We typically hear from many, many more qualified applicants than we can provide financial support to. There are so many outstanding Hispanic students that we could award 20,000 more scholarships every year without blinking an eye.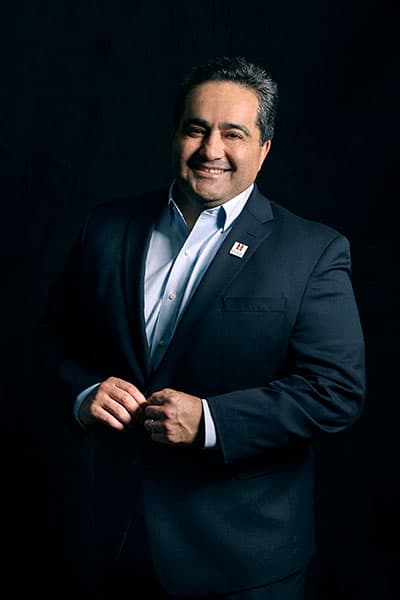 [kleo_gap]
---
"It's very gratifying to know we're removing some of the biggest impediments to deserving students attending the most selective universities in the country." —Fidel Vargas, CEO, Hispanic Scholarship Fund
---
[kleo_gap]
Hispanic Scholarship Fund
Headquarters:

 Gardena, CA
Founded:

 1975
2016 Scholarships:

 4,200 totaling $35 million
Total Scholarships:

 $500 million to 65,000+ scholars since 1975
About:

 The Hispanic Scholarship Fund empowers Latino families with knowledge and resources to successfully complete a higher education, while providing scholarships and support services to as many exceptional Hispanic American students as possible.