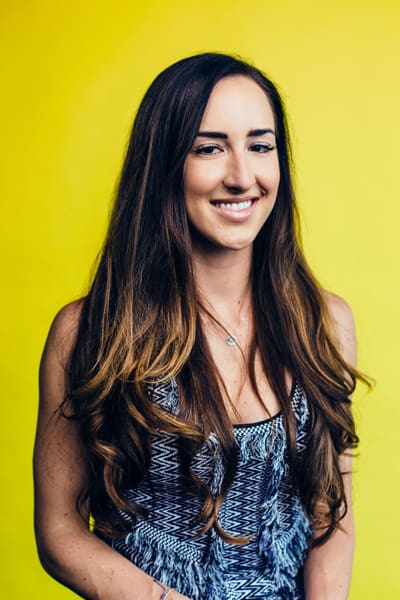 Codie Sanchez began training as an investigative journalist at Arizona State University, where she wrote heart-rending stories about human trafficking and other difficult issues along the US-Mexico border. She quickly realized those stories weren't having the impact that she wanted. After lengthy discussions with her mentors about where effective power comes from, Sanchez decided that financial independence is an important part of true freedom. So, she set her sights on the financial markets to be able to make meaningful changes in the world.
Sanchez studied and networked extensively, and highlighted what she felt were her most unique qualities: her youth, Latino heritage, and bilingual abilities in the largely white, male industry. She landed at The Vanguard Group and went on to Goldman Sachs, State Street, and eventually to her current firm. Sanchez also founded CS Ventures, an angel fund and media company that offers advice on money, career, sales, and entrepreneurship.
In an interview with The Alumni Society, Sanchez speaks about what drives her, the advantages that Latino professionals can leverage, and the small steps that anyone can take to help make big differences in the world.
How has identifying the source of real power influenced your career?
It helped show me that commerce is one of the best ways to give back. I've been able to offer professional opportunities to women, veterans, and Latinos in which they can demonstrate their skills to the world. Previously, I thought I'd just donate to causes I believe in, but I have a platform to do much more now. I loved storytelling as a journalist, but now—even as highly regulated as the financial industry is about how and what professionals communicate—I'm able to tell different kinds of stories through the individuals and activities I'm involved with.
You've written about feeling like an imposter since you didn't come from a financial background. How have you overcome that?
Honestly, I haven't met a Latina—or professional woman, for that matter—who hasn't struggled with that feeling to some degree. One of my top mentors, who is wildly successful, actually said that if I didn't feel that ghost of inadequacy, I probably wasn't stretching enough. So I just push on. And, I use physicality to get past it: skydiving, bungee jumping, anything that makes me afraid. If I can jump out of an airplane, the next time I have to ask for a raise or make a cold call, it's not that big a deal.
How did following the path of the renegade help you get your current position?
The renegade is someone who doesn't accept the status quo, who's got a bit of a chip on her shoulder about wanting something better and being able to provide it. When it came to the opportunity to work in Latin America, I decided I wouldn't take "no" for an answer even though I had never even spoken Spanish in a business setting before. I sent proposals for solutions to address issues I thought State Street had, used humor, anything to lobby for the job. And, I got a meeting. It's the kind of spirit I look for when I'm doing my own hiring. It shows strong morals and a willingness to grind away at the task at hand.
But being a renegade can also be much subtler. If you truly believe in a cause, put your money where your mouth is, and do business with companies that are like-minded. Buy from women-, Latino-, or minority-owned businesses. Spend a few pennies more, if you have to, to support them and to further your shared causes. Those are simple but importantly "subversive" things anyone can do.
What is the biggest challenge that Latinos in finance face?
I actually see more opportunities than I do challenges. I think being Latino is a huge bonus, since we are the largest and fastest-growing demographic in many parts of the world, and all kinds of companies are trying to target that audience. Major corporations are looking for talent that understands the culture, has insights into the politics, speaks the language, and can help position product sets in the demographic. If you're not using those skills in your job now, there are many companies looking for what you have to offer.
To what behavior or personality trait do you most attribute your success?
I don't do well when things are static, so I'm always evolving and looking for the next challenge. For Latinas, it can be hard to get family and friends to understand that since they usually think you should stick with something that's comfortable and stable. I eventually joined Young Entrepreneurs' Club as well as Summit, organizations where I found groups who feel the same way. They made it seem like it's okay to always keep striving.
What do you know now that you wish you had known at the start of your career?
The things you worry about in your head are much worse than the reality. I can't tell you how many times I've been up all night worrying that something was going to go wrong at a speaking event the next day. Or, there was the anxiety I felt for two months after starting a job after a former boss told me it was the biggest mistake of my life. He actually said, "Call me when you fail!" Instead of working in a panic and losing ten pounds, I could have made those two months a much better experience. And, by the way, that boss called with congratulations after the initial project was done. So that's my advice: assume the positive.