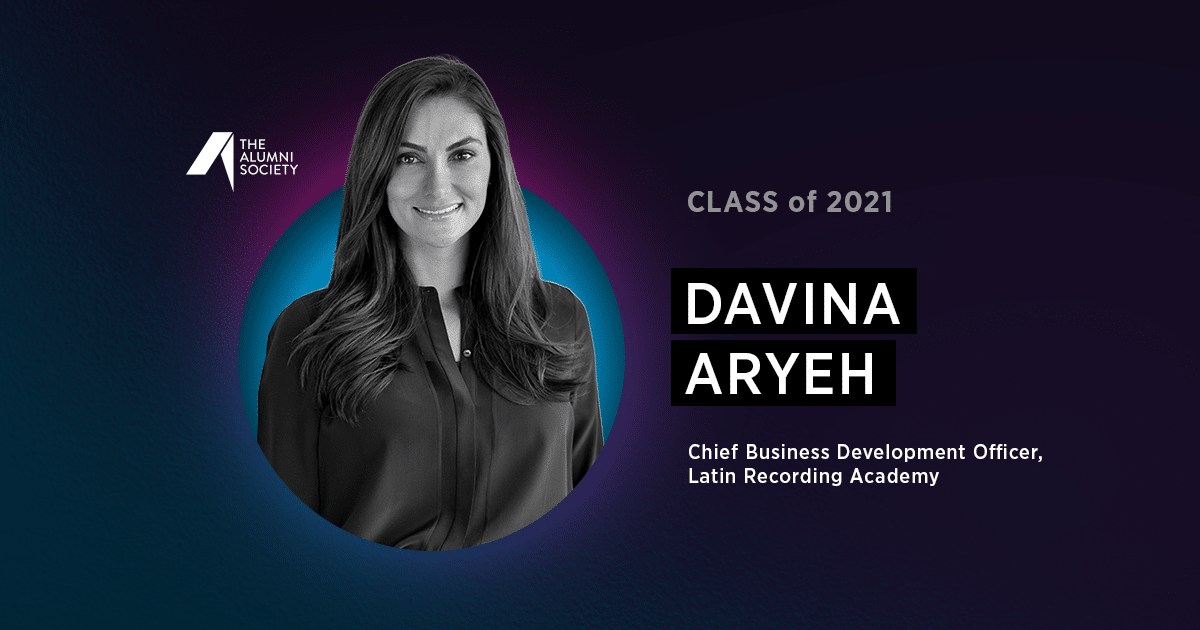 When much of the entertainment industry was (understandably) sputtering to a screeching halt in 2020, Davina Aryeh was rolling up her sleeves as the newly minted chief business development officer at the Latin Recording Academy, a position created just for her.
Due to the dangers of the coronavirus pandemic, people were stuck at home and craving entertainment more than ever. The Latin Recording Academy presents the Latin Grammy Awards each year, and with gatherings of all sizes rendered impossible, Aryeh found herself smack dab in the center of an exceptionally difficult storm.
But she embraced the challenge to maintain audience attention and engagement. Aryeh recalls that she and the management team realized that the success of reinventing themselves, maintaining market relevance, and developing new verticals for revenue generation would hinge on their ability to shift towards the digital space.
"We needed to do this in the form of content creation, virtual events, and through the development of new concepts through which we could engage our audiences on new distribution platforms by reaching them at home," Aryeh says, "but most importantly by curating content and storytelling that catered to our highly culturally diverse audiences around the world."
As hectic as things got, Aryeh refused to let important initiatives fall by the wayside. Certainly not the Leading Ladies of Entertainment initiative, which she says began five years ago as an intimate industry gathering during Latin Grammy Week wherein the Latin Recording Academy celebrates barrier-breaking women in the Latin entertainment industry.
"As one of our most important pillars in our dedication to diversity and inclusion in our industry, we could not allow the pandemic to put a hold on the execution of this event and the impact it has—including its philanthropic commitment to funding a scholarship fund for young women interested in pursuing careers in music," Aryeh explains. "We made the decision to switch to a virtual event format, which not only allowed us to execute the event during the pandemic, but also gave us the opportunity to reach millions of people and grow our audience tenfold."
Aryeh, like so many working parents, particularly mothers, meanwhile found herself facing the many hurdles of maintaining a full-time job while also caring for children at home 24/7. To this end, Davina has reflected a great deal over the past year on the importance of adaptability.
She adds that the pandemic provided an opportunity to reflect on how to continue to serve and inspire future generations.
"I am lucky to work at an organization with a strong commitment to improving our society through our philanthropic arm, the Latin Grammy Cultural Foundation," Aryeh says. "The foundation has helped hundreds of youths through educational scholarships, instrument donations to schools, mentorship programs, and many other amazing initiatives that help serve our communities and use music as a vehicle for positive impact."
And speaking of the future, Aryeh would like to see companies embrace more flexible office culture over the long term. "Repeatedly we saw companies thriving and in many cases doing better than ever, even with employees working remotely," she describes. "The creation of a hybrid work culture with the right balance of in-person relationship and team building opportunities, but also flexibility and results-driven environments signals mutual trust and creates work/life harmony."
With her commitment to diversity and inclusion even in the direst of times, Aryeh is an ally for the ages.