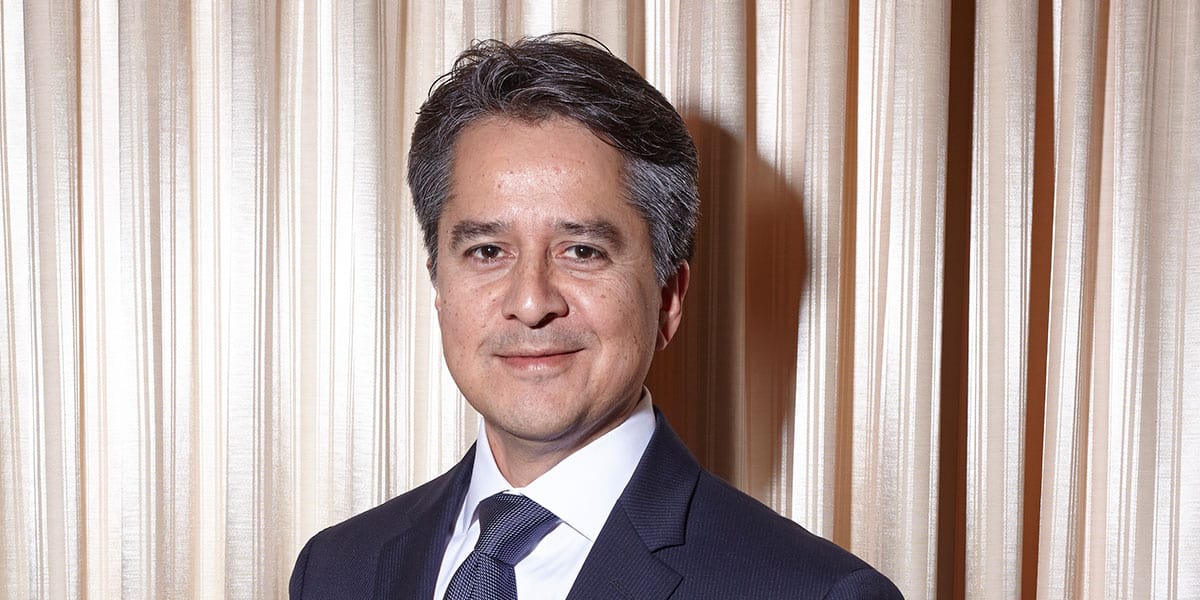 Managing Partner  |  MCG+Company, LLC
---
BROWN UNIVERSITY, HARVARD UNIVERSITY
---
Although Marcos Gonzalez loved the close-knit home his Mexican parents built in Los Angeles in the 1960s, he remembers thinking, "What else is out there?" The question stayed in the back of his mind while attending Alhambra High School and led to his application and acceptance to Brown University. In 1985, he traveled more than 2,500 miles to Brown, where he was one of just a handful of Latino students.
He earned a bachelor's degree in interdisciplinary urban studies. Like most students during their first experience away from home, Gonzalez matured in college, and the distance gave him new perspective to see what his parents had sacrificed to give him opportunities. As his graduation date neared, he began thinking again about the opportunities that lay ahead of him.
Gonzalez landed his first job at IBM, where he received top-notch training and became enthralled with the world of business. "Growing up, I thought I wanted to be a lawyer, but after my undergraduate studies and early career experience," he says, "I decided that I wanted to be the guy telling the lawyer what to do." After several years at IBM, Gonzalez moved again, this time to Boston to study business at Harvard University. His next stop was the Boston Consulting Group (BCG), the white-shoe, global management-consulting firm that took him to Monterrey, Mexico, as a consultant.
Gonzalez credits BCG for helping him realize just how creative a business can be. Whereas most people would describe the business world as a place in which number-crunchers toil away in cramped, lonely offices, BCG was infused with ingenuity. "There is a tremendous amount of creativity involved in business and management," Gonzalez notes.
In 2000, during the dot-com boom, some Harvard friends contacted Gonzalez about creating a company that would monetize underutilized assets—in this case, construction equipment. "In those days, we thought the only place to find a great idea was in the least-sexy industries, and construction equipment seemed to fit the bill," Gonzalez says with a laugh. They developed Rentmaker, an aggregator for construction managers seeking the best and most affordable equipment and for equipment owners who wanted to monetize their idle assets. Gonzalez and his partners raised $1 million to develop the business and secured another $9 million from a venture capital fund to expand.
Gonzalez later sold the company, returned to California, and joined HealthNet as director of product strategy, where he is credited for developing a successful portfolio of products in the California market for the publicly traded company.
In 2009, Gonzalez broke out on his own to launch MCG+Company, where he and his partners can pick and choose interesting projects. Gonzalez has a portfolio of strategic and financial clients, but he is also working on his next "what else is out there" ventures, including a real estate finance fund he and his business partners are starting, as well as his passion project: a venture fund to invest in tech-enabled companies led by Latino and Latina entrepreneurs.
"We (the Latino community), are being left out of the STEM ecosystem," explains Gonzalez, pointing to the lack of Latinos studying and working in science, technology, engineering, and math, as well as the lack of capital for Latino and Latina tech entrepreneurs. He emphasizes technology, he says, because of the unprecedented wealth it has created and will continue to create. "Nothing has ever come close to this before, and if we aren't present, we will see very little of that wealth in our community," he says.
"Early in my career, I was paid to think," Gonzalez reflects. "If you go to an Ivy [League] or other selective school and work in a selective industry, you will be taught that value is in the thinking." Looking back, he concludes, "There are pitfalls to believing value comes from elegant and esoteric strategies; it is action that creates real value." 
---
Words by Margaret Rock   //   Photography by Rachael Porter