Recap: 2016 Catalyst Los Angeles Event
---
By Vianni Busquets // Photography by Noel Bass
---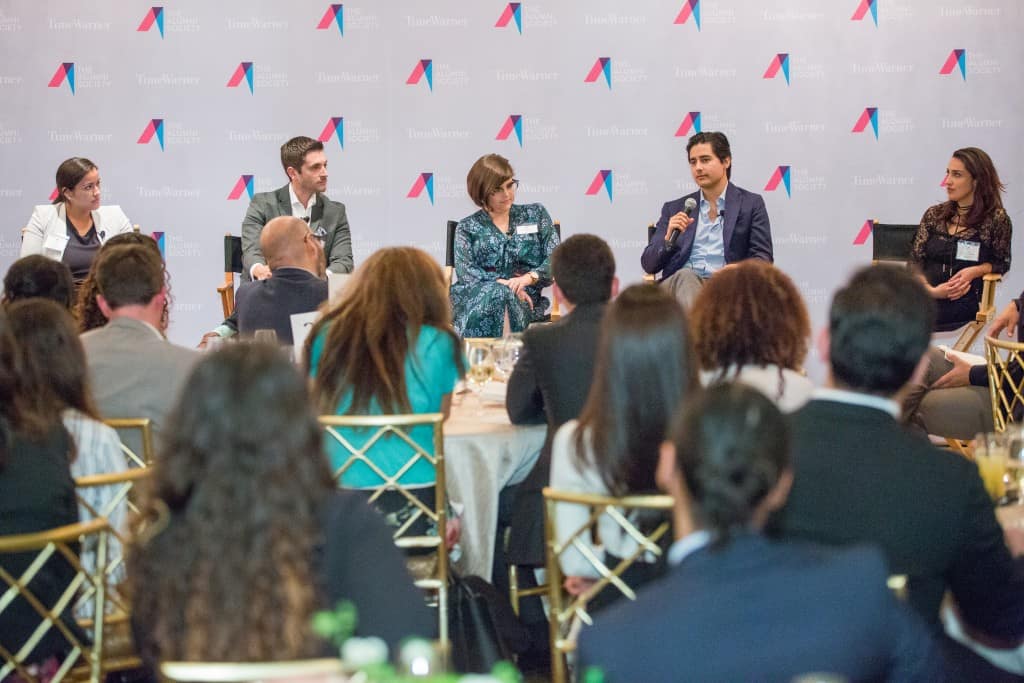 "Now more than ever you have to wear the diversity brand and be that needed advocate to empower others," says Christian Gabela, vice president and general manager of Story House for Univision, in response to a question on championing diversity today as it relates to the media and entertainment industry. Gabela was one of four panelists featured during an exclusive panel discussion at the Catalyst Los Angeles event on November 10, hosted by The Alumni Society.
The event, presented by Time Warner Inc., was held at the Beverly Wilshire Hotel and brought together eighty Latino executives and alumni from top-tier universities, working in media and entertainment and beyond.
The evening featured two networking receptions along with a dynamic dinner and panel discussion centered around the state of diversity in media and entertainment. The Alumni Society executive director Sergio Fernández welcomed guests and emphasized the organization's goal to become an indispensable partner to both members and corporate partners. "Our promise is to deliver results that elevate Latino executive leadership through our innovative programs, media and technology platforms, and our exclusive events," Fernández said.
Alumni Society advisory board member David Guzmán shared his personal story and what the network means to him, as well as how to leverage it. "If we can build a powerful network of the most accomplished set of Latinos in the world … by coming together as a network, we would like to see those of you who have built so much to grow and be on boards of major corporations," says Guzmán, Yale alum, and chief information officer of H.D. Smith.
Yrthya Dinzey-Flores, executive director of corporate social responsibility and diversity at Time Warner, kicked off the evening speaking on behalf of presenting sponsor, Time Warner and its family of companies. She shared a bit about her background—a "Caribeña" at heart of Dominican descent who grew up in Puerto Rico and now lives in New York—and discussed the importance of putting a stake in the ground in developing and supporting the leading talent of Alumni Society members forward.
The panel discussion of the evening—Latinos Disrupting in Media & Entertainment—addressed the need to reshape the stories that define who Latinos are as a community. "Often overlooked are the power of the people behind the scenes, making decisions of the stories that are told about us," Dinzey-Flores concludes.
All four panelists working in media today, discussed championing diversity in Hollywood, the Latino narrative, and the media's role. Participants included:
Daniel Batista, senior vice president and head of content licensing and development, mitú

Julie Ann Crommett, entertainment educator in chief, Google

Christian Gabela, vice president and general manager of Story House, Univision Communications Inc.

 Carla Vionette Santiago, agent, Creative Artists Agency
The discussion was moderated by Jazmin Medina, chief operating officer of Blunder Inc.
The big question: How are Latinos reshaping media and entertainment and the stories of tomorrow?
"Our mantra is multicultural is the new mainstream," Daniel Batista says on needing to fill a void to create content that resonates with young audiences. "There is a hunger for people to see people who look like them on screen. That's why @wearemitu exists."
"I didn't see myself reflected until Ugly Betty came on television," said Julie Ann Crommett who shared her background on carving her own path at Google to bridge the dialogue between tech and entertainment, a focus area she was passionate to see progress. She also called out to members of the audience to candidly bring the subject of unconscious bias to their respective organizations and discuss with senior leadership in order to really make progress on the subject.
Gabela discussed what it's like to be in a position to innovate—he is currently working for a new unit within Univision called Story House that develops original content, understanding that it's no longer the thought that you are targeting a niche specific audience.
Carla Vionette Santiago of Creative Artists Agency shared her unique background—a mother of three who started her own company out of her bedroom—and then leveraged her relationships to open doors for her at CAA.
The panel concluded by having each speaker provide one key takeaway—something new that they could immediately tackle or implement when leaving the event—as a promise to champion diversity within their organizations. They challenged members in the audience to do the same.
Additional photos from the 2016 Catalyst Los Angeles event can be found on our Facebook page.