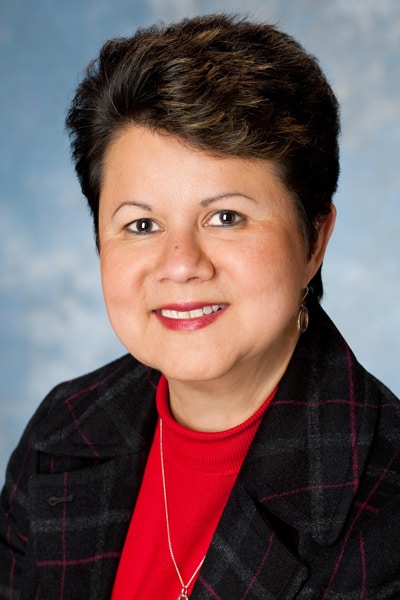 In eighteen years, Rita Mitjans has performed five roles for ADP, and thanks to the organization's commitment to integrity and "walking the walk," she remains engaged and thirsty for more challenges.
In her latest role as ADP's chief diversity and corporate social responsibility officer, Mitjans is charged with ensuring ADP stays on top of its game when hiring and promoting a diverse range of associates and executives. It's a task she lives and breathes every day. Mitjans also helps run the ADP Foundation, which is a team of fourteen people focused on the company's philanthropic efforts. She describes her team as "small but mighty," and takes great pride in the work they do.
Since joining ADP, Mitjans has been able to achieve a long list of accomplishments that are also firsts for the organization. When she first joined ADP, she was part of a management team that drove the profitability of her division. As head of marketing and strategy, Mitjans helped reposition the company's pricing strategy to turn that division profitable and spearheaded ADP's social media presence. Now as head of the company's diversity and inclusion (D&I) initiatives, she's proud of the market accolades ADP has received for its D&I results. The company was recently recognized by DiversityInc as one of the Top 10 Companies for Diversity and by BLACK ENTERPRISE as one of the 2018 50 Best Companies for Diversity.
Mitjans loves a good sports reference. When discussing her leadership style, "coach" is a word she employs often. She believes a great manager can help an employee bridge the gap between their strengths and the areas where they might need support. Mitjans also likes to refer to the Rooney Rule, which required the NFL to interview minority candidates for head coaching jobs. The rule, created in 2003 after incidences of discrimination in the hiring and firing of coaches emerged, resulted in increased hiring of minority head coaches. She appreciates the rule's role in highlighting the fact that without having a qualified and diverse slate of candidates to choose from, employers limit great talent from advancing.
In an interview with The Alumni Society, Mitjans discussed making diversity a C-suite priority, her leadership and mentoring styles, and the simple pleasures of life.
What have you enjoyed most about ADP's culture?
The fact that there are opportunities to take your skills and your interests and really blend them into new, different roles. I love the openness of the culture. If you deliver and produce results, they encourage you and are very open to giving you different experiences and different opportunities. We really do walk the walk when it comes to our values, and I really believe that our senior leaders are consistently embodying the values that we say are important to our organization—integrity, ethics, inclusion, and, of course, diversity. I don't believe we would have made the progress that we've made over the last four or five years had it not been for the fact that our senior leadership is very committed to embodying that.
How would you describe your leadership and mentoring styles?
I would say coach, counselor, and teacher. I wear different hats depending on the situation and who I'm talking with, but I would say definitely coach is probably the one single word that comes to mind. My view of leadership and mentoring is that my role is to first and foremost recognize what the strengths are of my team members and then get out of their way. Let them do their best. When they're having challenges or when they're struggling with something, it's not for me to give them the answer, but it's for me to help them get to the answer.
What behavior or personality trait in yourself do you most attribute to your success?
I would say determination and perseverance. I am the type of person that doesn't like to fail and certainly doesn't like to not achieve the goals I've set for myself, so I just continue to look for ways to get it done.
What do you wish you had known at the start of your career?
I wish I would have known that I didn't have to be perfect and that I didn't have to know all the answers. I felt like I had to do it all. It would have been great to know that I could actually rely on other people to help me be successful.
When did you realize that that was not the case?
I think probably my first job in management. I was leading a team and still trying to do it all, and I realized it was impossible. It didn't feel very good to the people that worked for me at the time—they felt like, "Why do you need me if you are going to do this yourself?" It was sort of an "Aha!" moment in my very first leadership assignment. I though, "Wow, I think I need to shift." It's no longer just me doing my individual thing. It's about me empowering others to do their individual thing. Thankfully, I got that lesson pretty quickly, but it could probably have been less painful for me had I known that going in.
What can organizations do more of from an inclusion and diversity perspective?
They need to make it a C-suite priority. If it isn't a C-suite priority, then I hate to say it, but you're not going to have a lot of traction. Starting with your CEO and his or her executive leadership, they need to make that a visible priority. I think establishing clear goals for improvement is also necessary. What gets measured gets done. If you're not measuring where you are and you're not measuring where you're going, it's going to be difficult to see progress. It's important to measure diversity and inclusion because you need to clearly understand where your culture is on the D&I journey—not just from a demographics perspective, but also from an engagement and cultural perspective. You need to have ways of measuring those things inside the culture and inside the organization and know where the gaps exist and then develop a plan for how to address those.
In terms of small steps, I call it blocking and tackling. If you're serious about this, you have to have a commitment to diverse slates. So when you have leadership openings, is there an expectation from your talent acquisition team that, say, they produce diverse slates, which means having gender diversity as well as ethnic diversity?
How can organizations help women get into the C-suite?
Exposure, sponsorship, and intentionality are key, as is accountability for achieving measurable progress. I think a lot of times we talk about what organizations can do, but I'd also like to talk about what women can do to help themselves advance to these positions. Don't be afraid to raise your hand for an opportunity that you may not think you've got all of the qualifications for but for which you might actually be very well suited. Women often think they have to check all the boxes before they put their name in the ring for an opportunity, whereas male colleagues think that if they have 20 or 25 percent of those qualifications they are going to go for it. We need to be more willing to take risks with ourselves, and I think organizations also need to be more willing to take risks on folks that maybe haven't had that direct experience but demonstrate the potential or skillset that's needed to be successful in a role.
What are some of the simple pleasures in life for you? It seems like you're really into sports.
Sports in general, yes. Certainly football and baseball. I'm a big New York Yankees fan and a big New York Giants fan. I would also say spending time with my daughter. I love that. Sipping a great glass of wine overlooking the ocean—I love that, too.
---
Listen to Rita Mitjans on the final episode of The New Majority podcast, The Culture Connectors.