The Alumni Society Hosts Diversity Collective Dinner at WarnerMedia
Top diversity and inclusion leaders convened in New York City to share best practices and collaborate on D&I initiatives in corporate America
---
By Frannie Sprouls, Photos by Sheila Barabad
---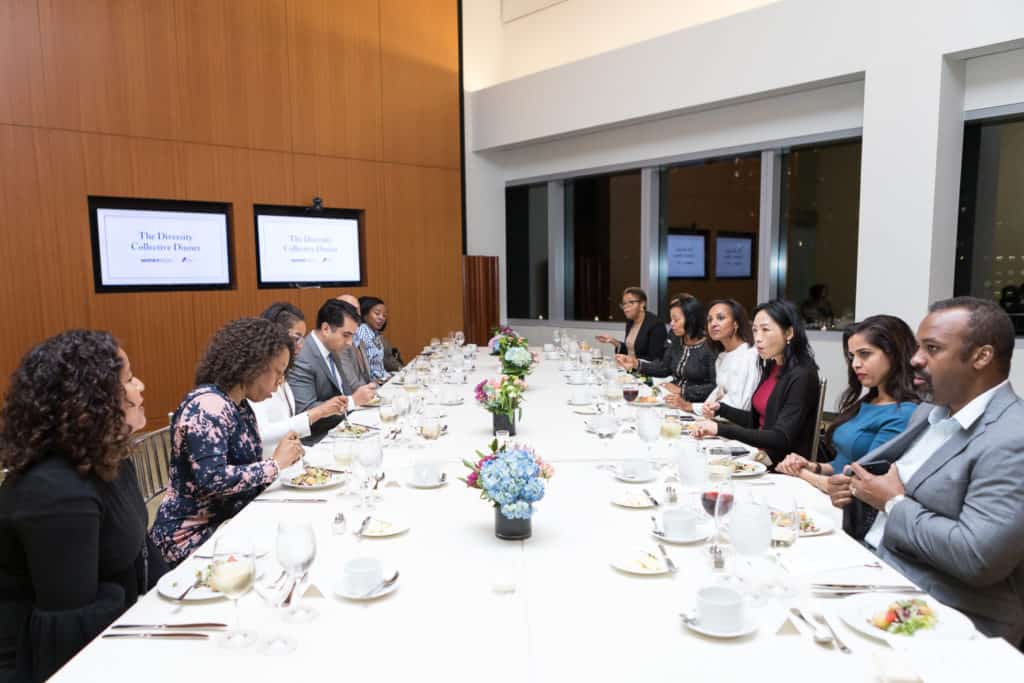 NOVEMBER 5—An exclusive group of top diversity and inclusion executives across industries met for the 2018 Diversity Collective Dinner. The event was hosted by WarnerMedia at its headquarters, One Time Warner Center in New York City.
This is the third year that WarnerMedia has partnered with The Alumni Society. "We thought it was a very fruitful partnership for us because Lisa Garcia Quiroz, my predecessor, saw this vision as part of a train that we were getting more people of color—particularly Latinos—into corporate America," said Yrthya Dinzey-Flores, vice president of corporate social responsibility, philanthropy, and diversity at WarnerMedia. "Not just at the lower level but at the leadership level of organizations to start to impact the C-suite of an organization in a meaningful way in terms of our representation."
The purpose of the dinner was to bring together leaders tasked at increasing diversity within their organizations to discuss their challenges and best practices and collaborate in a meaningful way.
Pedro A. Guerrero, cofounder and CEO of The Alumni Society, recalled a resonating quote from LinkedIn's Rosanna Durruthy at the 2017 Leadership Summit: San Francisco: "The power to lead is the power to be yourself."
"We want you to be yourself," Guerrero said before the dinner. "We want you to bring all of who you are to the table. It's important to have the opportunity to find that meaningful connection because it's an effort that is going to require all of us collectively to really focus on it and work toward."
Over dinner, these leaders spoke candidly with each other and walked away with strengthened connections and tactical ways to further their companies' D&I initiatives.
The event brought together leaders from Goldman Sachs, Nike, Facebook, HBO, Accenture, Dow Jones, and more.
More photos from the event can be found on our Facebook page.