The Alumni Society Hosts Third Annual Leadership Summit
Society members gathered in New York City for the full-day conference and networking event
By Vianni Busquets // Photos by Caleb Fox[/vc_column_text]
NEW YORK—The Alumni Society hosted its the third annual Leadership Summit on June 23 in midtown Manhattan at One Time Warner Center.
The full-day conference and networking event—held in partnership with corporate sponsors ADP, Eli Lilly, Facebook, Goldman Sachs, and Time Warner—brought high-caliber members of The Alumni Society together to connect, share, and get inspired.
The summit kicked off with a morning networking breakfast followed by welcome remarks by Summit Chair Regina Montoya, chairman of The Alumni Society's advisory board and chief strategist at JMC Strategy Group. Welcoming attendees to the iconic One Time Warner Center was Bernadette Aulestia, class of 2016 featured member and executive vice president of global distribution at HBO, who reminded attendees about the power of their networks and to leverage the summit for relationship building.
The first Leadership Session of day was led by Anilu Vazquez-Ubarri, managing director and chief diversity and global head of talent development, interviewing renowned economist Dr. Jorge Castañeda, former foreign minister of Mexico. They discussed everything from the US economy, monetary policy, and US-Mexico relations to Latino leadership in the United States.
On leveraging connections, Dr. Castañeda emphasized the importance of building strong relationships. "Establishing connections and relationships is critically important. The Latino community in US and Latino civil society is less organized than it should be. Representation at all levels is way below what it should be."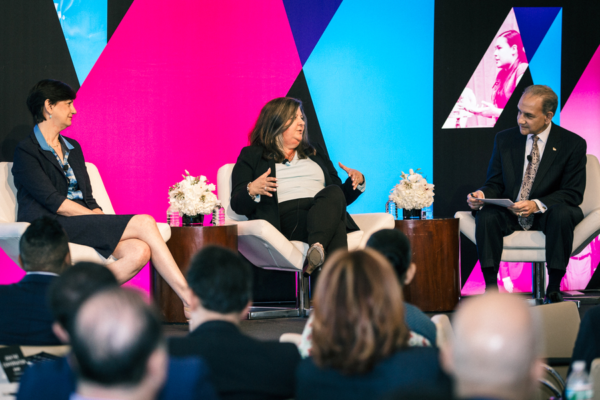 The second Leadership Session of the day featured two dynamic Latina CEOs onstage together: Marta Tellado, president and CEO of Consumer Reports, along with Yasmine Winkler, CEO of central region and chief consumer officer for UnitedHealthcare Community & State. Moderating the discussion was Michael Montelongo, president and CEO of GRC Advisory Services. The session focused on the women's leadership philosophies, personal journeys, and how humility, risk-taking, and collaboration are key tenants of successful leadership.
"There is always a next move when you can't get someone to give you a response on what you need. But more importantly, how you leverage the expertise of others to give you the answers that you need. I strongly believe in diversity of perspectives coming together to help you with the next move," said Winkler on ways in which she ensures that her leadership team works independently while still maintaining the vision of the organization.
"If you stay curious, you are always wanting and willing to learn more. As a CEO you have to embrace what you don't know and that will give you the ability to get out in the world," Tellado said. "Base in truth that you don't have all the answers."
Following both Leadership Sessions, a networking lunch provided an opportunity for attendees to engage with their fellow members through spirited and productive discussions.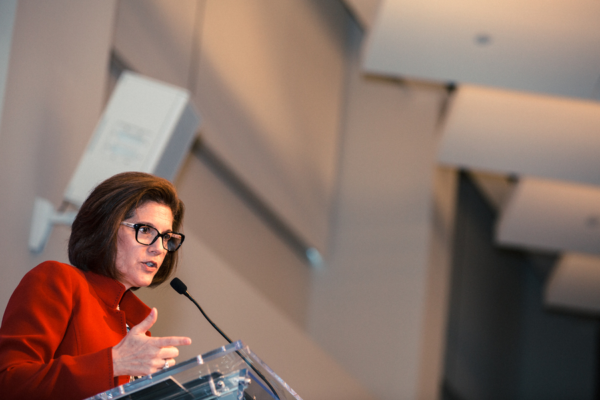 Senator Catherine Cortez Masto (D-NV) delivered the keynote address. She spoke about her experience as the first Hispanic woman elected to the US Senate and the journey that got her there including the sacrifices of her family.
"I still believe in that American dream. I know that everyone here does too—or else you wouldn't be here, supporting this organization, and supporting our Latino communities," Cortez Masto stated, emphasizing the importance of empowering the next generation of Latino leaders. "It's one thing to make history as the first Latina ever elected, but more importantly for me, it's reminding these families, our young people, that this success is possible. And their background does not limit this success."
She also announced her plans to continue embracing her passion to fight for others and use her voice to speak up for those who can't, specifically as it relates to passing comprehensive immigration reform.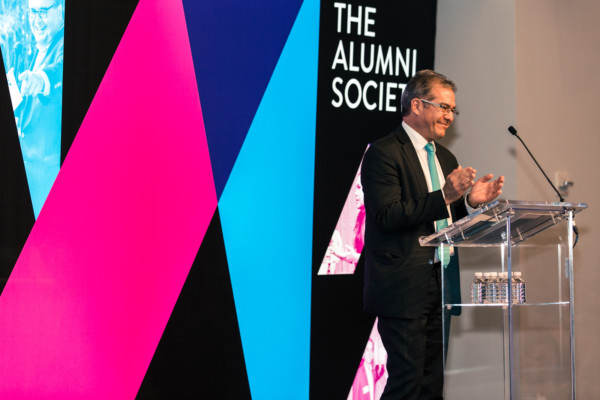 The afternoon presentation ended with closing remarks from Alumni Society co-founder Ricardo Anzaldua and executive director Sergio Fernández. Both Anzaldua and Fernández spoke of the journey and progress of The Alumni Society.
"This room is filled with the most amazing Latinos in the country. The 1,800+ members we have today, are more than double what we had last year at this time," Anzaldua said. "I am confident we are going to make The Alumni Society the go-to place for companies seeking qualified Latino leadership."
"I'm both proud and honored to see the progress we've made as an organization since our last summit. Although we still have ways to go, it's great to see the impact we're making with our members, partners, and community alliances in terms of providing powerful access and empowerment," Fernández concluded.
[/vc_column]
[/vc_row]