Recap: 2017 Catalyst Chicago Event
---
By KC Forsythe // Photography by Gillian Fry
---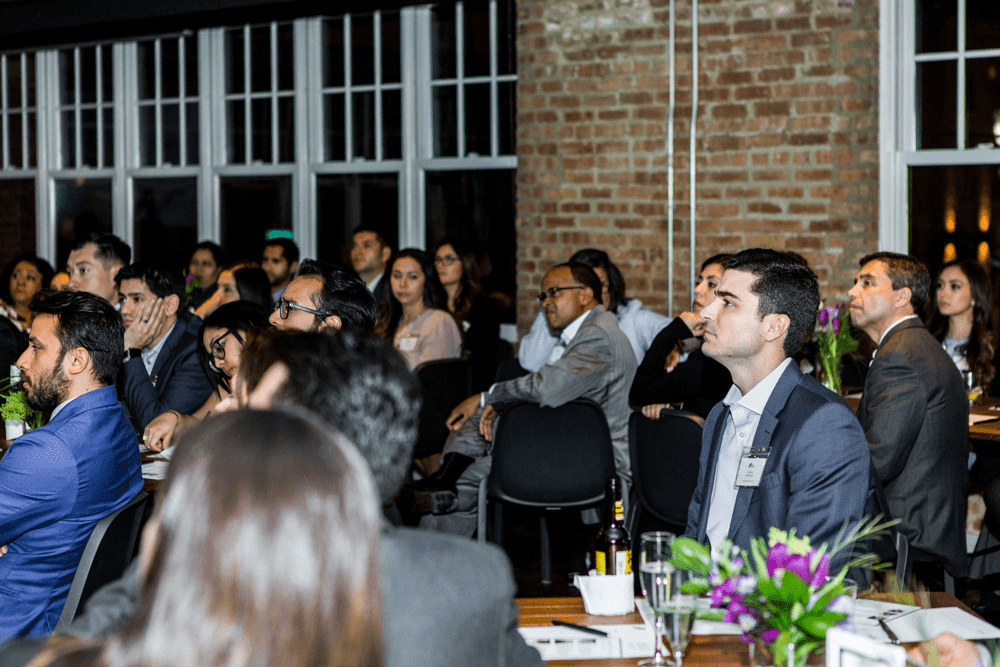 Did you know that of the 32 million active Hispanic Facebook users in America, 60 percent access Facebook strictly from their phones? In fact, the US Hispanic audience is 1.5 times more likely to log in to Facebook via their mobile phones than all other users.
Insights such as these drove the conversations at the recent Facebook-sponsored Catalyst event on marketing in a multicultural America. On Wednesday, March 29, Facebook and The Alumni Society presented the first Catalyst event of 2017 at Morgan's on Fulton in the West Loop area of Chicago. The event brought together Latino alumni from top-tier universities and executives from a variety of sectors, and featured a valuable presentation from marketing executives at Facebook.
After a lively networking cocktail hour, guests were welcomed by The Alumni Society board member Yasmine Winkler, who emphasized the importance of being part of a network. "Anything that I've achieved has been through the help of my connections," said Winkler, CEO of the central region and chief consumer officer for UnitedHealthcare Community & State. "I grew up in the barrio, speaking no English, but I always had a sense of familia. That is exactly what The Alumni Society is about."
The Alumni Society's executive director, Sergio Fernandez reiterated her sentiments. "Being a part of how thought-leaders interact—it doesn't get old. I am proud to say we have tripled our membership in less than a year," Fernandez said. He then introduced the evening's presenters, Matty de Castro, Tasha Levy, and Monse Moreno of Facebook.
The Facebook team delivered a thought-provoking and insightful presentation on multicultural marketing from the perspective of a digital-first network. The team reminded attendees that "multicultural consumers are today's growth engine with $3.4 trillion in buying power," and that 50 percent of US kids will be multicultural by 2019.
Facebook also outlined some of its strategies for approaching multicultural marketing in unique ways. For example, the network is working in conjunction with Universal to identify three distinct audience affinity segments, create custom creative for each segment, and use the reach and frequency tool to reach the most people within each affinity segment.
After the presentation and fascinating breakout discussions among attendees, the evening concluded with a dessert and cocktail networking hour and complimentary headshot session.
The next Catalyst event presented by Facebook will be held in Austin on April 27, 2017.
Additional photos from the 2017 Catalyst Chicago event can be found on our Facebook page.